Our next presentation is –
Mary Queen of Scots – Thursday June 20th
Queen of France at 16 and widowed at 18, Mary Stuart defies pressure to remarry. Instead, she returns to her native Scotland to reclaim her rightful throne. However, Scotland and England fall under the rule of the compelling Elizabeth I. Each young Queen beholds her sister in fear and fascination. Rivals in power and in love, and female regents in a masculine world, the two must decide how to play the game of marriage versus independence.
"This heartfelt, serious-minded film about the artful power politics of the rival 16th-century queens presents their relationship as battle and love affair" GUARDIAN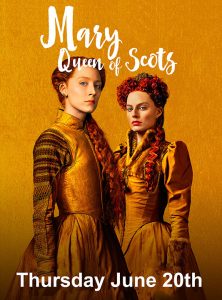 Tickets are available in advance from Harrison Lord and Ryecorn Wholefoods or on the door (from 7pm).
April 18th 7.30pm Brighouse Assembly Rooms (Masonic Hall), HD6 1EF
See the trailer here
Brighouse Cinema shows films on the third Thursday of every month
Brighouse Masonic Hall (Assembly Rooms), HD6 1EF. Tickets £5 on the door or in advance here
Future Presentations include:
Stan and Ollie – Thursday July 18th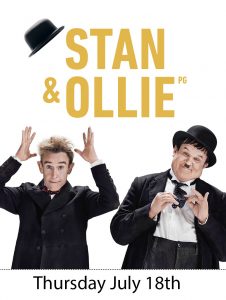 Watch out for these future screenings:
Rocketman
The First Man
If Beale Street Could Talk
Tolkien
All films and dates are subject to change