Our next presentation is –
Can You Ever Forgive Me – Thursday September 19th
Starring Oscar nominated British actor Richard E  Grant.
Lee Israel is a frustrated, hard-drinking author who can barely afford to pay her rent or bills in 1990s New York. Desperate for money, Israel soon hatches a scheme to forge letters by famous writers and sell them to bookstores and collectors. When the dealers start to catch on, Lee recruits a dubious friend to help her continue her self-destructive cycle of trickery and deceit
"Melissa McCarthy is magnificent as an odious literary forger abetted by Richard E Grant as her lounge-lizard drinking buddy." GUARDIAN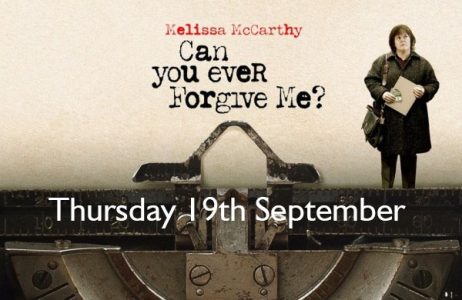 Tickets are available in advance from Harrison Lord and Ryecorn Wholefoods or on the door (from 7pm).
April 18th 7.30pm Brighouse Assembly Rooms (Masonic Hall), HD6 1EF
See the trailer here
Brighouse Cinema shows films on the third Thursday of every month
Brighouse Masonic Hall (Assembly Rooms), HD6 1EF. Tickets £5 on the door or in advance here
Future Presentations include:
Watch out for these future screenings:
Rocketman October 17th
Yesterday
Blinded by the Light
Red Joan
All films and dates are subject to change