Our next presentation is a screening of  "Judy"
Thursday 19th at 7.30pm starring Oscar winning Renee Zellweger
Tickets, £5 are on sale now at Harrison Lord and Ryecorn Wholefoods in Brighouse or online here
Buy tickets online here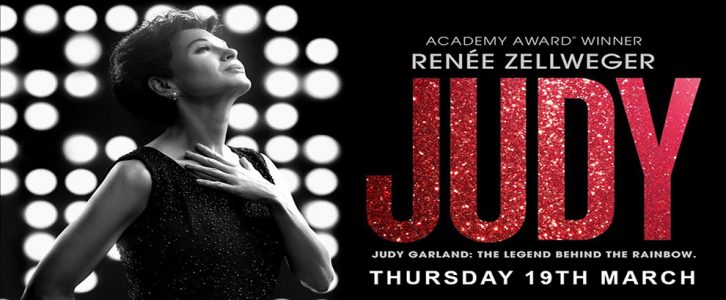 Thirty years after starring in "The Wizard of Oz," beloved actress and singer Judy Garland arrives in London to perform sold-out shows at the Talk of the Town nightclub. While there, she reminisces with friends and fans and begins a whirlwind romance with musician Mickey Deans, her soon-to-be fifth husband.
Our next screening is "Judy" – Thursday March 19th  7.30PM at St John the Divine, Rastrick, HD6 1HL
Tickets, £5 are on sale now at Harrison Lord and Ryecorn Wholefoods in Brighouse or online here
Buy tickets online here
Judy is  a biographical drama film about American singer and actress Judy Garland. Directed by Rupert Goold, it is an adaptation of the Olivier- and Tony-nominated West End and Broadway play End of the Rainbow by Peter Quilter. … Critics praised the film, with Zellweger's performance garnering universal acclaim.
Tickets are available in advance from Harrison Lord and Ryecorn Wholefoods or on the door (from 7pm).
Brighouse Cinema shows films on the third Thursday of every month
St John the Divine, Rastrick, HD6 1HL
Tickets, £5 are on sale now at Harrison Lord and Ryecorn Wholefoods in Brighouse or online here
Tickets £5 on the door as available
Future Presentations include:
Watch out for these future screenings:
Blinded by the Light
Aeronauts
All films and dates are subject to change