Our next presentation is – Mamma Mia 2 Here We Go Again – Thursday 20th December
Mamma Mia! Here We Go Again is a 2018 musical romantic comedy film. It is a follow-up to the 2008 film Mamma Mia!
Because it's nearly Christmas we're having a party! The ticket £6 includes a drink and nibbles.
For a great night out why not book a meal deal which includes a meal at Brooks Restaurant and the cinema ticket
Advance booking is now recommended due to high demand.
The smash hit film Mamma Mia 2 – Here We Go Again is set after the events of the first film, and also features flashbacks to 1979, telling the story of Donna Sheridan's arrival on the island of Kalokairi and her first meetings with her daughter Sophie's three possible fathers. The film stars Lily James, Julie Walters, Pierce Brosnan, Colin Firth, Cher, and Meryl Streep.
They are available in advance from Harrison Lord and Ryecorn Wholefoods or on the door.
December 20th 7.30pm Brighouse Assembly Rooms (Masonic Hall)
See the trailer here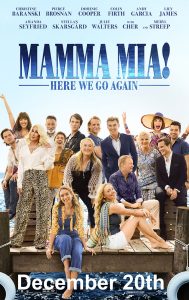 Brighouse Cinema shows films on the third Thursday of every month,  7.30pm
Brighouse Masonic Hall (Assembly Rooms), HD6 1EF. Tickets £5 on the door or in advance here
Future Presentations include:
Film Stars Don't Die in Liverpool Thursday January 17th.
Annette Bening and Jamie Bell in stranger-than-fiction love story. A tremendous central duo breathe life into Paul McGuigan's endearing retelling of the real-life romance between a struggling young actor and Oscar-winner Gloria Grahame.There is a tremendous warmth and tenderness to this sweet, sad love story starring Annette Bening and Jamie Bell – a stranger-than-fiction true romance that unfolds in Los Angeles, New York, London and Liverpool – and there is a bittersweet rightness in a new song from Elvis Costello over the closing credits: You Shouldn't Look at Me That Way. Director Paul McGuigan finds the balance between pathos and humour, working from Matt Greenhalgh's adaptation of a memoir by the actor and writer Peter Turner.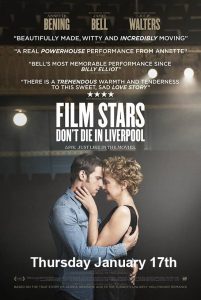 Future presentations include:
Crazy Rich Asians
Bohemian Rhapsody
The First Man
Robin Hood
Peterloo
The Nutcracker and the Four Realms
All films and dates are subject to change